Free Pincushion, Pincushion/Thread Catcher,Armrest Pincushion Caddy Patterns:
LOG CABIN Chicken Pin Cushion!!!
thanks for the pdf link to the Ocean Waves Quilt Guild and to the photo of a pincushion, made and featured at the
"
The Chicken Run" Challenge Group..see lots and lots of chickens!!
http://ohsewtempting.wordpress.com/chicken-run-gallery/
More to check out for the same chicken pincushion idea:
Other Creatures of All Kinds!
Dragonfly Pincushion
(and Needlecase)
Birdie
Birdie (mini)
Blow Fish
Busy Bees
Chicken
Country Mouse
Hedge Hog
Kitty Kat
Ladybug
Lady bug Pincushion with goody-goody
Little Turtle
Owl
Porcupine
Turtle Love
All Shapes, Sizes, and Things Pincushions!
FLOWERS AND OTHER FUN PINCUSHIONS!
Apple Pin Cushion
Blossom
pin cushion pattern
Bottle Cap Pincushion
Anna Marie Horner Wild Flower Pincushion
Children Can Make this Needlecase from Nini!
CRAZY QUILT CD PINCUSHION TUTORIAL
Cupcake pincushion by Crativity Amongst Chaos
Doughnut Pincushion Tutorial by Fave Crafts
Sea Dreaming:Crazy Quilted with Beads and Shells Pincushion
Autumn Pincushion
Busy Bees
Embroidered Pincushion
Embroidered Tomato
Hand Embroidered
Mason Jar
Pin It Heart
Sunflower
Embroidered Pincushion Heart(for the multi-talented
)
Fantasy Mushroom Pincushion
Flower Pincushion
from Love to Crochet & Knit
Flower Pin Cushion (&Scissor Holder) from HGTV.com
Fruits and Veggie Pincushions of All Kinds!
From Quilt Story and Moda Bakeshop: Pea Pod Wrist Pincushion!
l
Ashley from Make it and Love It Pincushion
Fried Egg & other Pincushion Ideas
Handy Dandy Bottlecap Pincushion
Thimble pincushion


How to Sew a Jester Hat Threadcatcher

Molly's Sketchbook: From the Purl Bee: Miniature Patchwork Pincushions
Wristlets!
While previously watching another pincushion challenge going around blogland, I was motivated by the dilapidated condition of my own favorite wrist pincushion, to make a new one...and this time take photos of the process!
I especially love this creation, which I designed several years ago, because it also works as a wrist protector/support band for my over-used wrist and its issues ;) It can be made with either one very wide piece of elastic inserted inside (like my original version) or with channels that hold several thinner rows of elastic (like I had...pardon the pun...on hand) to use here.
Lots more links to wrist pincushions:
Download this Project
Pansy Pincushion Pattern
by Jean Wells
Patchwork Pincushion Tutorial
Pedestal Pincushions
Pin Box
Pear pincushion tutorial
Apple pincushion tutorial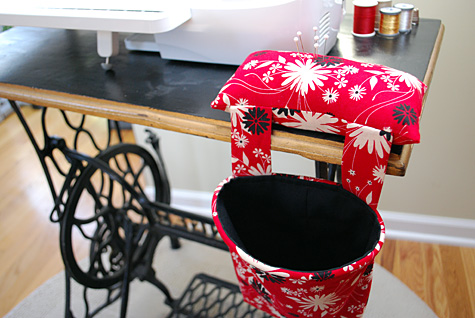 Pinchushion/Threatchatcher with straps
Pincushion/Thread catcher with lining
Pincushion and Fabric Threadbin
Threadcatcher/pincushion
from Lauralynn
http://quiltscapesquilting.blogspot.com/2013/02/snippets-threadcatchers-and-trash.html#more
tutorial - shrink plastic toppers for sewing pins
Pretty Little Purse Pincushion Tutorial
Weighted pincusion, button on threadcatcher
pdf download, detachable scrap bag on it
Free Pansy Pincushion Pattern
by Jean Wells, Sisters OR
Pincushion sewing kit
Pincushion Tutorial
from May Britt at Abyquilt
Ring Pincushion
Seminole Patchwork Hanging Heart Pincushion etc. from Sewing.org
Small Wonder Pin Blossom
Small Wonder Pincushion from Quiltmaker
Teacup and Saucer Pincushion
Monkeyroom threadnest pincushion
Homespun Hearts Pincushions Pattern
Free Pincushion Pattern
Beaded Stilleto (beautiful fabric guiding stick to push fabric along as you sew)
Design by Mary Tosch, pdf from Bonnie Hunter/Quiltville.com
Homespun Hearts Pincushion from Fat Quarter Shop
Pretty Trivet Pincushion
from DIY
Small Wonder Pincushion from Quiltmaker
Tomato Pincusions from Martha Stewart
Tomato Pincushion
put atop a jar!
Trivet Pincushion
from DIY
Turn a Barette into a Pincusion
from DIY
Walnut Shell Pincushion
Wool Crazy Pincushion Base
Lookie what she made: Needle organizer and scrap catcher
Tutorial: Make a thread catcher pincushion
pdf download
Tutorial: Thread catcher fabric basket
Armrest pincushion/caddy from Maureen
Armchair sewing caddy from About.com
Armchair sewing caddy from HugnKisses
...
thanks to Helen..download all pdf pattern pages on her linked site
Tutorial: Sewing caddy with removable pincushion
Tutorial: Remote control organizer for your couch

Wrist Pincushions Tutorial -both magnetic & regular options :
from Michele
,this blog tute
Instructables:wrist pincushion
Homespun Hearts Pincushion from Fat Quarter Shop
Pretty Trivet Pincushion
from DIY
Small Wonder Pincushion from Quiltmaker
Tomato Pincusions from Martha Stewart
Tomato Pincushion
put atop a jar!
Trivet Pincushion
from DIY
Turn a Barette into a Pincusion
from DIY
Walnut Shell Pincushion
Wool Crazy Pincushion Base
In this youtube tutorial, "The Chicken Pincushion", from the Missouri Quilt Company, Jenny demonstrates how to make an adorable pincushion that can be customized to fit your own style.
Everyone loves this little chicken not only because it's quick and easy to put together, but also because it is a great project to use up leftover charms or orphan blocks. Click HERE now to watch The Chicken Pincushion Tutorial!
Or click here, if you're on metered Internet or just prefer a free printable pattern. There are so many of them, but do remember that it took a very long time and the passing of its inventor to come into the free share ware world of free quilting and project tutorials.
So, many quilters take other's patterns and pass them off as their own on the Interent that it's always important to give credit where credit is due and almost nothing is original anymore! Someone has created it before you ever did!
With Heart and Hands: Free Sewing Accessories Patterns: Updated 2014:
Free Sewing Accessories: Patterns, Tutorials, Ideas and Links!
My sewing room includes many accessories that I have designed and created, myself. I love general sewing as much as I love quilting. So, whether I am sewing with my bigger Viking Sapphire 870 Quilt... or my much tinier ...Singer Featherweight...every one in our family gets new 'clothes', accessories, and fun craft and quilting supplies! (here's s
ome one else's free pattern
that is a different take on mine, above. I never saw hers' ahead of time, and am hoping she didn't see mine, as I don't see a link back for me ;-) But, I don't mind sharing what I do, and still linking up to other people who've done what I did a little differently!
Singer Featherweight: Sewing Accessories (small mat and a snippets bag) Tutorial
I've made my own sewing machine pocket mats, magnetic wrist pincushions and wrist protectors, pincushions, pattern weights, snippets threadcatchers, roll-up scissors holders and many different sized tote bags for quilting supplies.
But I must confess, I do so love making Sewing Accessories of all kinds!
Michele Bilyeu
blogs
With Heart and Hands
as she shares a quilting journey through her life in Salem, Oregon and Douglas, Alaska. Sewing, quilting, and wildcrafting, with small format art quilts,
prayer flags,
and
comfort quilts
for a variety of charitable programs. And best of all, sharing thousands of links to
Free Quilt and Quilt Block Patterns
and encouraging others to join her and make and donate quilts to charitable causes.
Help us change the world, one little quilt at a time!