It's Friday and I'm still being frugal...right now my frugality is focused on time and my very best use of it! Therefore, I look out our Douglas Island home and see snow still piled up outside...and think what can I offer for Frugal Friday?...Well, more free quilt patterns, of course!

And what could be more appropriate than sending you free Snowman patterns.I don't know what the weather's doing in your area...it's actually warming up here. My 92 year old dad put on his southeast Alaska boots and trekked up to check on his poor old motor home. The roof was leaking and door piled up against the door...but sinking to this thighs, he still managed to pry it open and climb inside.

After he was missing in action for an hour, I tried to put on my own boots to climb through the snow to both look for him and keep an eye on my mom in her chair at the same time. I finally decided he either must be a snowman or a popsicle but eventually he came in from his play in the snow and back to our cozy home.
So, for my snowman father, I offer you Frugal Friday Free...Snowman Quilt Patterns...a wonderful, whimsical variety of quilt blocks, applique, redwork, green work, whatever works for you snowman quilts and/or quilt blocks. The photos just show the few that aren't copy protected but all links lead to free patterns.

Vermillion Stitchery Free 2008 Bom Stitchery Patterns (directly above)
others shown and not shown:
Simply Snowmen
Snow Man Quilt Pattern
-->
Mini-mini snowman quilt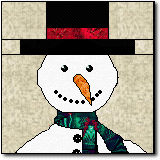 Snowman Quilt Block (above)
Windblown Snowman
Snowflake The Snowman
Let it snow

Christmas Star (and snowman) Wallhanging
2009 BOM Snowman (Legacy of Stitches) Patterns
Getting to Crazy BOM Snowman patterns
Vermillion Stitchery 2008 BOM Snowman stitchery patterns: Free!
Applique Snowman
Cozy Company
Primitive Snowmen
Redwork Snowman
Redwork Snowman
Snow-Bound
Snowman
Snowman
Snowman Face
Snowman Door Hanger
Starry Night
*NEW*
Welcome Friends & Flakes Stitchery
Redwork:
Snowman: free pattern
www.redwork.info
Applique a snowman on your denim shirt:
Let It Snow
: pincushion pattern
from Kaaren at
The Painted Quilt