Make a pledge to yourself, and to those you love this month. Take good care of your own heart with healthy habits and a good and active life and make a comfort quilt, a heart shaped comfort pillow, or some other lovely little heart filled gift of comfort to another..one for you, one for a beloved, and one for someone you may never meet but can reach out to with love, none the less!
Whenever we make a comfort quilt or donate a block to a given cause, we are putting a piece of ourselves...our heart...into that donation. Whether they are given to a loved one, heart patients, for cancer care, for hospice donations, or to simply to show our love, faith, and caring...it's wonderful to make and keep heart blocks, quilts and other projects on hand....any time of the year!
My String Pieced Prayer Pocket Pillow
make with strings or solids and use the little pocket in the
back...for sending good wishes of any kind
Making a (Cardiac) Heart Pillow perfect for post surgery for either cardiac or breast cancer patients, hugging a pillow over the heart after cardiac surgery or under the arm after breast surgery have been shown to help significantly with post-operative pain.
Valentine Heart Pillow Pattern

. pdf pattern from the link above (cute sayings like candy hearts)
Make a simple quilt and applique a heart on top of its blocks!
And now....my collection of more than a hundred links for free heart shaped quilt blocks or heart themed quilt or craft patterns all in one place for you to check out for special gift for a loved one, or for another Valentine's Day in the future! Links below:
| | |
| --- | --- |
| Nine-Patch Heart: FREE Quilt Block Pattern | |
McCall's Quilting
issue shown below for the
Heart of the Home
quilt pattern by Jackie Robinson.
WEB BONUS
Click here to download their FREE Nine-Patch Heart Quilt Block Pattern
from their
FREE online Quilt Block Reference library
.
Bloomin' Hearts Quilt...click on image
Read her tutorial at link above:
Wonky Hearts:
Wonky Hearts: Sharon of Indigo Threads
Paper Pieced Heart Blocks
Summerlove

new

Brown Heart - new
Valentine 2007

Valentine Hearts 2006

Potholders

Hearts Hearts Hearts 2006

Candy Hearts 2006

Valentine 2006

Valentine 1 - 2005

Valentine 2 - 2005

Heart 2005

Heart 2004

Valentine 2002

Broken heart

Uneven heart

Pastel hearts

Flower hearts

Flower hearts II

Clear Heart
Stack'n Whack Hearts
http://www.bethanyreynolds.com/snwhearts.html
Make a Patchwork Heart Quilt Block
Flower hearts
Yvonne's dk...pdf dnload of pattern only
Crazy Patch Heart
String Heart Block from sophie
Many Pieced Heart Blocks by Carol Doak, including Pink Ribbons and Hearts
Many Pieced Heart Blocks by Carol Doak, including Pink Ribbons and Hearts
AmeriHearts at Home
About.com PP Heart can be a Signature Block
Piece by Number, CandyBox Heart
Quilters Online Resource, Hearts A Bloom
Quilters Online Resource, Beginner HeartsEZ Quilts Heart Block
18" Square
Here's My Heart
Flags & Heart
Ute-Barbara Skjønberg, Norway
Heart Block
Quiltaholics Heart Block
Heart Block, Cole Brothers
Janet Smith's Hearts
pdf download
JC Quilts, Pieced Heart
JC Quilts, 1997
,
PP
JC Quilts, 1998
,
PP
Nutmeg Nook's Primitive Heart
Warner Stained Glass
(these could be pieced)
Mrs. Burns Chained Heart
pdf download
Australian Heartland
pdf
Pat Patches Crazy Heart
(in Portuguese) pdf
:http://www.pat.patches.nom.br/Down/2003/BMJan03.pdf simple pieced heart with lots of diagrams
The Heart Pillow Program for Heart and Stroke Patients
Bypass Heart Surgery Heart
,
Photo
Quilt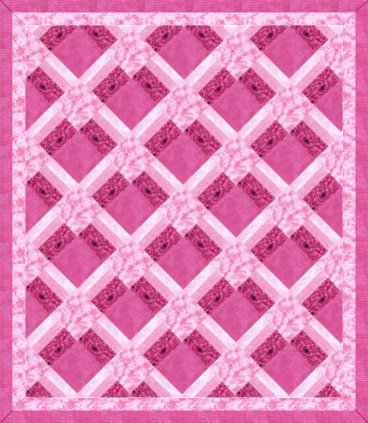 Logic
Quilters Neighbourhood Pieceable Hearts
Quilt Pox Think Pink Hearts
Red Dawn's Woven Heart
PP:
paper pieced
Sandy Bonsib's Pieced Heart Block
Sew Quilty, Jake's Heart
Sew Quilty, Scrappy Heart
Sew Quilty, Strippy Heart
Portable Hand-sewing Kit
.
Heart Pin Step-by-Step
does it get any better than this???
Love Bugs
There is something extra special about receiving a handmade Valentine. These Valentine ladybugs are a cute way to let someone know how much you care. It's a fun and easy project that even the kids can help out with. You can make one or a whole class set of these adorable love bugs. It's okay to be creative with the colors. This is a great way to use up some of the bits of scrapbooking paper you may already have.
Materials
1 piece of white cardstock to print the heart template
1 piece of colored cardstock
1 piece of coordinating patterned paper
2 small brads - I used heart shaped ones, but plain brass ones work fine
pencil
scissors
black pen or marker
1/8 inch hole punch
2 small googly eyes and glue (optional)
Directions can be found here: Love Bug Valentine's
sewing kit ensemble!
Quiltscapes Hen Party Chicks Pincushions:
TUTORIAL
Heartstrings Quilt Project by Mary
Patriotic Heartstrings for Our Soldiers
String Quilting Tutorial and Online Links
Fridgies
Filet Crochet
The following filet crochet charted patterns are on this site - About Crochet:
Hearts Border (Add Initials)
Hearts Border With Love
Hearts Filet Crochet Bedspread
Hearts Filet Crochet Tablecloth
Heart With Rose Center
Fridgies
Double Hearts Fridgie
At Crochet Memories: Interlocking hearts made with worsted weight yarn.
Heart Fridgie
At Lee's World: Made with sport weight cotton. (Photo)
Heart Fridgie or Pin
At Crochet Memories: Made with worsted weight yarn; center is crocheted around a plastic ring. (Photo)
Valentine Hearts Fridgie
At Crochet Memories: Made with small amounts of worsted weight yarn. (Photo)
Valentine Magnet/Pin
At Crochet'N More: Made with worsted weight yarn. (Photo)
Hot Pads
Hearts Hot Pad
On this site - About Crochet: This hot pad uses the ruffling technique; a how-to is included. (Photo)
Textured Hearts Hot Pad
At Priscilla's Patterns: Includes instructions for potholder, hotpad and dishcloth. (Photo)
Motifs
Heart Motif
At Jenn's Crochet Page: You could use this as an applique, a magnet; bet you can think up more uses. (Photo)
Heart Motif 2
At Jenn's Crochet Page: Made with size #10 cotton thread. (Photo)
Valentine Brooches
At Joyful Abode: She gives directions for making the heart shapes into pins. (Photo)
Pillows
Heart Shape Pillow
At Crochet Me: Easy-to-make shapes are joined to form the heart-shaped pillow. (Photos)
Shawls
Connected Hearts Shawl in Filet Crochet
On this site - About Crochet: A triangle shaped shawl pattern that I created, featuring my Connected Hearts charted design.