In honor and memory of those who have served, and those who have died, I offer my update list of free patriotic quilts, quilt blocks, bags, banners and so forth that can all be made and donated to Military and Veteran's hospitals or given to someone you know and love!
Happy Memorial Day, 2012!
In honor of our soldiers (both at home and abroad) our ever-present patriotism and in the spirit of good work and service that so many do in our country..... here's my collection of over 100 links to free quilt or quilt block patterns. In includes some that are traditional, some that date back to the Civil War, and some amazing and wonderful stars, stripes, flags and even service banners!

note: McCalls Quick Quilts is now requiring a free sign-up to access their free patters etc. So, if you get an error reading page...that's what that means. Sign up on the right of that screen for free viewing and printing privileges!
Civil War
Patterns
Free Patriotic Quilt Patterns:
Free Union & Confederate Soldier's Patriotic Quilt Pattern
Soldier's Patriotic
Union Eagle Quilt
Gunboat Quilts
...applique motif ideas like above
Pomegranate (Marriage )Quilt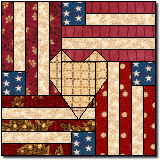 McCalls now requires a sign in to download next 16 patterns below but there is no fee:
54-40 or Fight
Independence Day
"
A Nation's Pride
"
Midnight Stars
"
American Classic
"
Shining Through
Bear's Paw
Stars & Stripes Forever
Born in the USA
Summer Spirit
Celebration 2000
True Colors
Sweet Land of Liberty by Marcie Patch
www.PatchalotPattens.com
her free patterns
including this American Eagle
Co
untry Spiri
t
..large throw
54-40 (Fight)


Country Spirit
Throw quilt

Crazy Anne Lap Quilt
Family Pride Mini Quilt

Hometown Tradition
(Queen Size)
Land of Liberty

15" x 20" pieced quilt project from Debbie Mumm
http://blog.debbiemumm.com/files/LandOfLiberty-Instructions.pdf
Liberate!
block from Quilter's Cache
Liberty Star Basket
Patriotic

Star
string quilted star pattern from Maryquilts
Party Hats
Indian Trail
Northumberland Star
Royalty
...the 911 block
Ohio Star
Spiderweb Star
Patriotic mini quilt: a free pattern for an 1890's reproduction
by Patricia Cummings
In The Line of Duty
(no longer links if you have one to this, please let me know!)
Shuttle (In Memory of the Columbia) Pattern
American Flag
...free American Flag patterns flying horizontal, vertical, or waving!
Star in a Wall Hanging
Compuquilts: free patriotic blocks and quilt patterns as below:
The Crazy Star Flag
The 4th Star Flag Block and Quilt
Sapphire Stars Quilt
(3 sizes)
Scottish Stars Quilt
(39" Square) by Joy Hoffman
From Darlene Zimmerman:
Stardance Quilt
(52.5" x 61.5")
Gala
xy of Stars Quilt
39" x 29"
Star in a Wall Hanging
Old Fashioned Stars Quilt
61" x 82"
Shooting Stars
Ribbons to make in
Red
, White and
Blue
,
Pink
, and
Yellow
Directions For Making a Blue or Gold Star Service Banner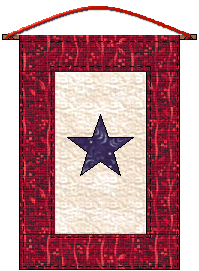 Armed Services Flag
for families with a member in active duty at this time! Fly proudly in your window!!!
3" x 6" US Ribbon Block
US Ribbon Block
Quilt, below

Amerihearts at Home
A nation's pride...'stained glass look quilt block pattern'
US "We Support" Ribbon wall hanging
Americana Flag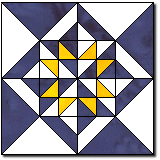 Navy Star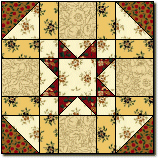 Army Star
Patriotic Block Patterns:
| | |
| --- | --- |
| | "A Dandy"...You will need six of these blocks! |
| | | |
| --- | --- | --- |
| | | "Log Cabin" ... You will need two of these blocks! |
| | | |
| --- | --- | --- |
| | | " Pieced Star" ... You will need two of these blocks! |
| | | |
| --- | --- | --- |
| | | "Starflower"... You will need eight of these blocks! |


Finished Size: 15" x 33"
Moda Marbles Stars Tablerunner™
Nantucket Knots Free Table Warmer Quilt Pattern
Free Patriotic Quilt Pattern Here
Four Flags Quilt Block from Better Homes and Gardens
Free Patriotic Quilt Pattern Here
July Flag from Quiltmaker.com :
Free Patriotic Quilt Pattern Here
Rainbow Stars from Better Homes & Gardens:
Free Patriotic Quilt Pattern Here
Stars & Stripes from Benartex:
Free Patriotic Quilt Pattern Here
Union Star from Quiltmaker.com:
Free Patriotic Quilt Pattern Here
Veteran's Pride from Quiltmaker.com:
Free Patriotic Quilt Pattern Here
Free pattern, click here.
Susan K. Cleveland prairie points
tool flag

New York State Table Topper
Pat Sloan's Patriotics: See all her free patterns!

including these amazing beauties!
Download SWEET LIBERTY HEART Pattern

Liberty Stars made with her Sweet Liberty Fabric line
CLICK HERE to Download the pattern
Sweet Liberty fabric and her free Stars and Stripes pattern:

CLICK HERE to Download the pattern
Patriotic Heartstrings of Memory idea made by Michele Bilyeu "With Heart and Hands":

see:String Quilting:Tutorial and Free Patterns
Patriotic Checkers from Bernina and Sewing.org:
Free Patriotic Quilt Pattern Here
Blue or Gold Star Service Banner
Patriotic Miniature Quilt
US"We Support" Ribbon wall hanging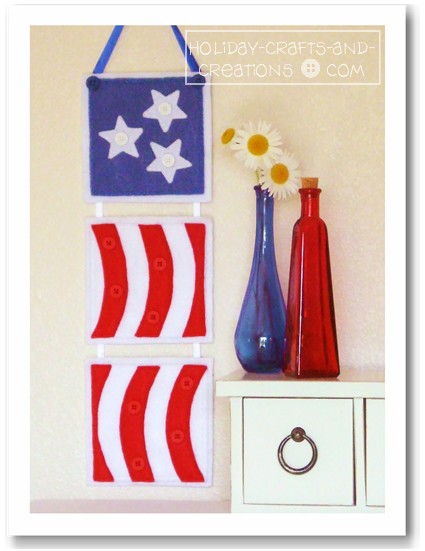 Military Free Printables
And for pure inspiration (but not free patterns) check out:
America's 9-11 Memorial Quilts Web Site
Shown at top:


one of my lap-sized string quilts with a pre-purchased center panel, makes up quickly and easily and is perfect for someone who is usually seated, as in a wheelchair.
String Quilting
Comfort Quilts
Patriotic Heartstrings



See my 2012 Memorial Day Post with some of my own patriotic quilts and become a follower at my primary blog here:
Michele Bilyeu blogs With Heart and Hands as she shares a quilting journey through her life in Salem, Oregon and Douglas, Alaska. Sharing thousands of links to Free Quilt and Quilt Block Patterns and encouraging others to join in her Liberated Quilting Challenge for the Alzheimer's Art Quilt Initiative (AAQI) Help us change the world, one little quilt at a time!